Dynamic Baby Carrier
SALE
Dynamic Baby Carrier
The Dynamic Baby Carrier is extremely comfortable and lightweight. 'Oh, sure, great sales pitch; that's what they all say…' Actually, this carrier really is different from the other baby carriers on the market thanks to its unique lower back support. This panel provides support for your lower back, and at the same time, pulls the weight of your child toward your body. This means you will be bearing your child's weight right at the strongest point on your body: your belly and waist. Just like you did during your pregnancy. Mothers understand this immediately, and fathers get it after trying it out once.
0 – 2 years (newborn to max. 15 kgs)
One size fits all
Safe: compliant with EU standard EN13209-2:2005
Washable at 40°C (in a wash bag and at low RPM)
Ergonomic baby carrier for child and carrier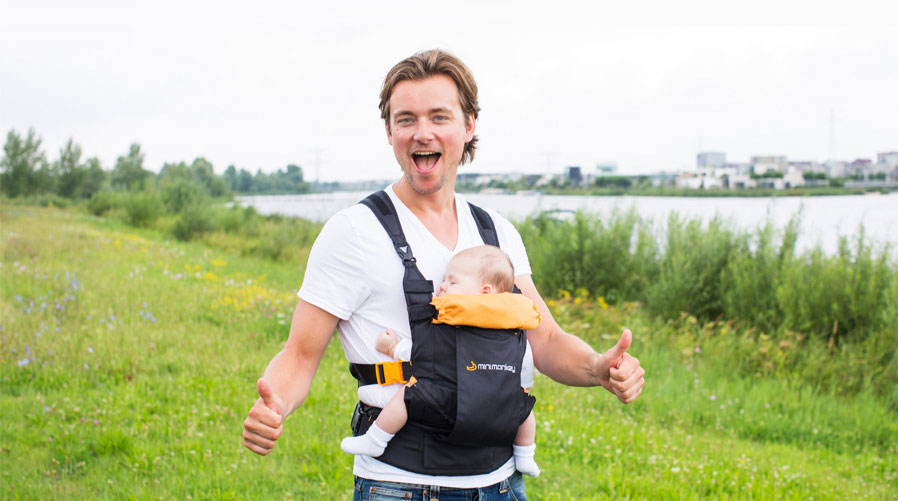 You carry a (newborn) baby in the Dynamic Baby Carrier in an upright position on your belly, with his or her bottom low and thighs higher and spread wide; also referred to as the M-Position or Frog Position. Experts recommend this ergonomic position for carrying babies because it can have a positive effect on the development of their hips. The Dynamic baby carrier is a 'hip-healthy product', certified by the International Hip Dysplasia Institute.
Try this carrier
Shoulder and/or back problems?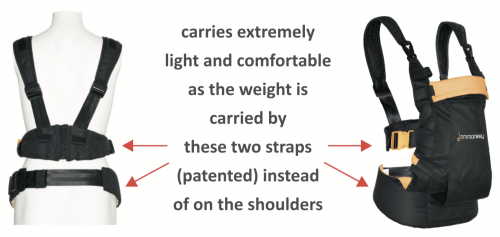 Baby Carrier
A new way of carrying your baby. The Minimonkey baby carrier is the only baby carrier that does not put pressure on your shoulders. Because of the revolutionary design, you carry the weight of your child exactly where you are strongest: on your belly and waist. Just like during pregnancy. Due to the smart and natural distribution of the weight, the carrier is not only suitable for babies, but also for toddlers up to about three years. The Minimonkey baby carrier has been developed in collaboration with various medical specialists:
it carries the weight of your baby on your own center of gravity (around your navel), making the carrier very light to use
it stimulates a straight posture by supporting the lower back and doesn't put weight on the shoulders
can even have a positive effect on pelvic instability (in consultation with your doctor)
good to use when you have back problems (in consultation with your doctor)
Normal price €100
SALE 40% discount Now €60