Minimonkey Baby Carrier
This one is so nice!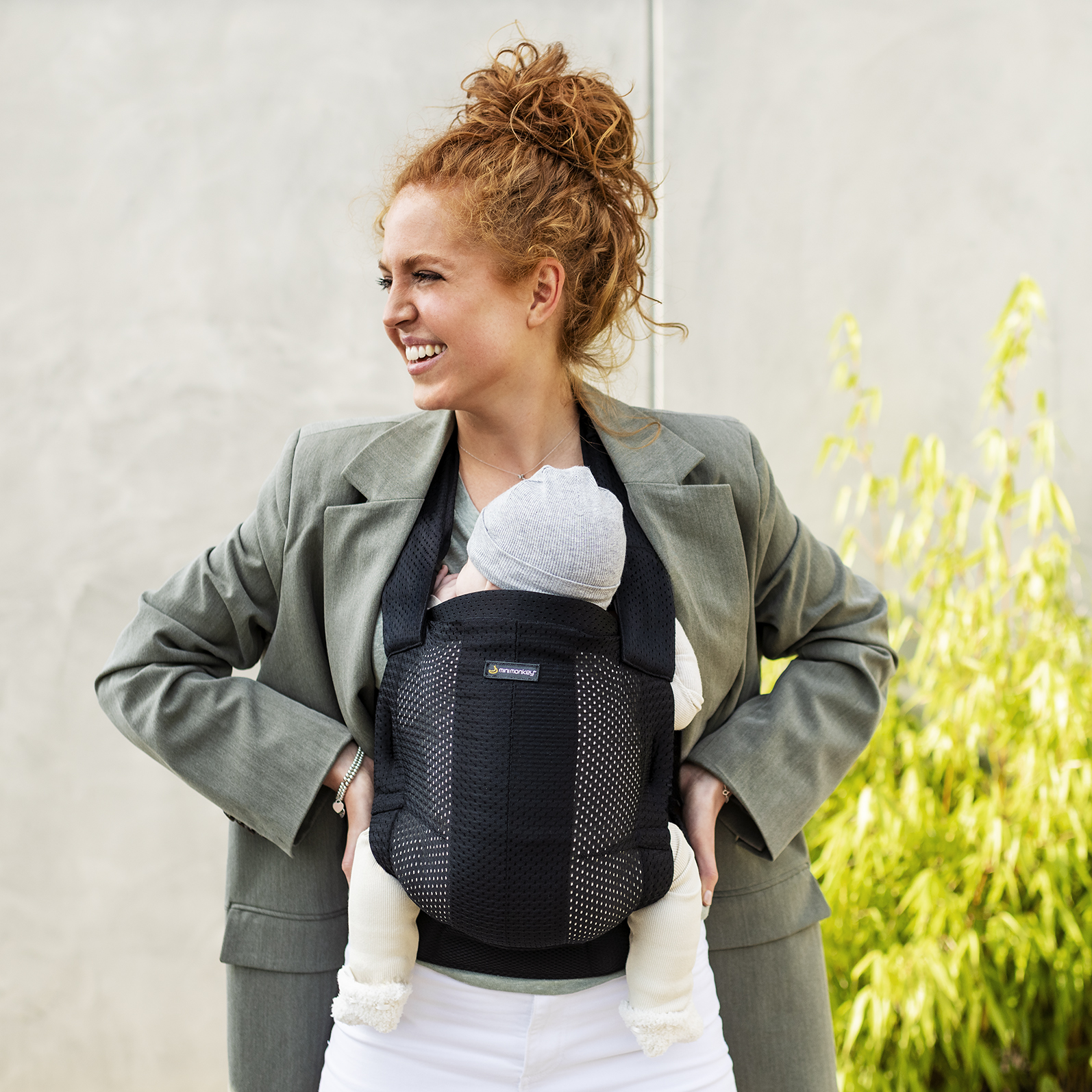 The Baby Carrier - €130
What makes this baby carrier so nice? It just wears super comfortable and is also very easy to use. Whether you carry a big or small baby, you don't need to adjust the carrier to your baby's size beforehand. The height and width of the carrier automatically form a nice tight fit around your baby's body. So it always fits and literally grows with your baby.
It is also made of a very nice fabric, a soft 100% recycled mesh ♻️. This fabric has a slight stretch, to mould around baby's shape, but remains supportive as they grow, so you can also wear it with a bigger baby (max 15kg). The mesh fabric has all little airy holes, which makes it also ideal to use in summer or at home. The fabric dries very quickly, so you can also use this baby carrier in the shower and pool 🚿🏝.
Order
Designed for our future
I am recycled ♻️
ini-minimonkey
Also for the little ones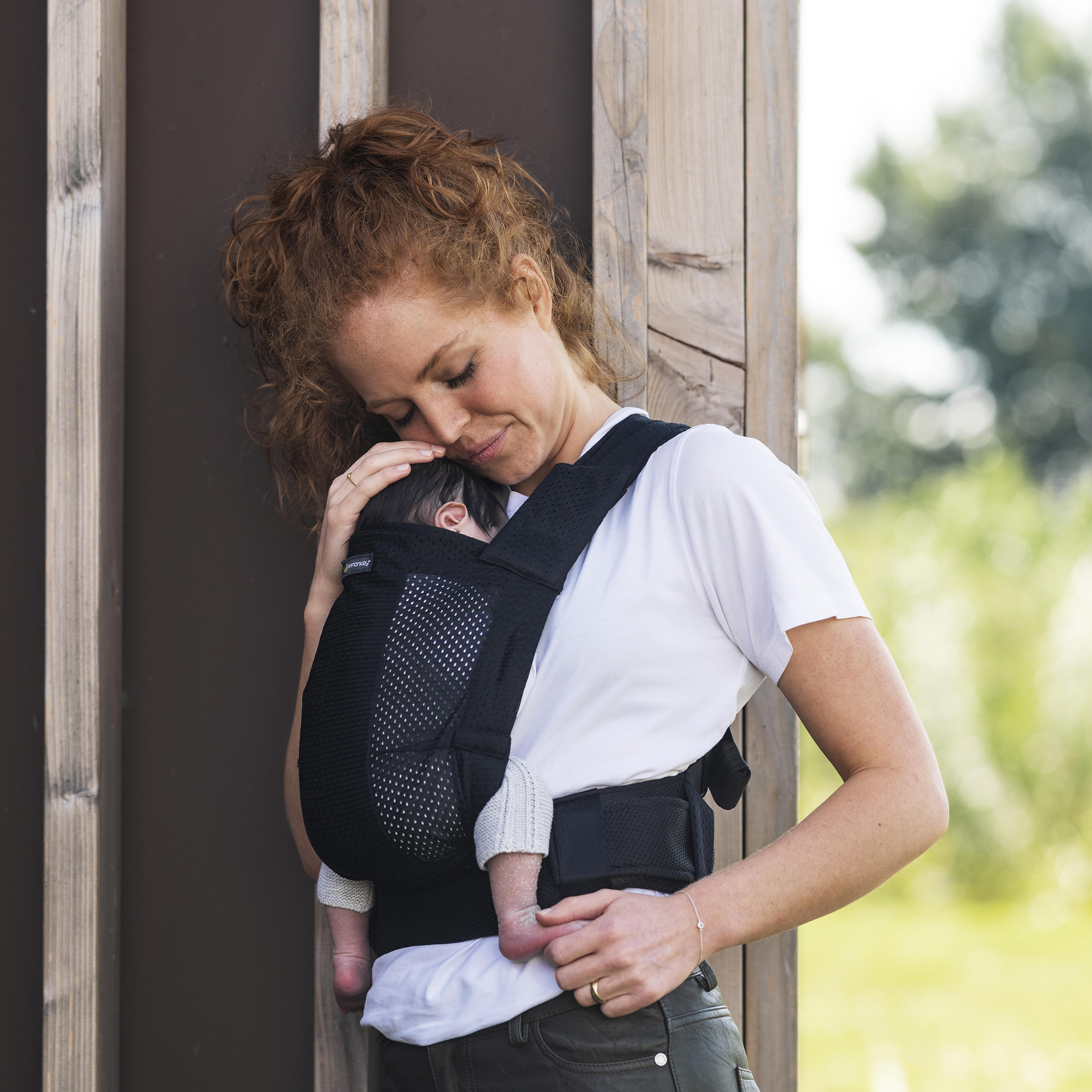 Can be used directly for newborns
A baby carrier that can be used right from birth? How is this possible? This baby carrier is specially designed for this purpose:
Head well supported
The top of the carrier has a double-folded edge that you can move up and down. This padded edge gives support exactly where it is needed – for a newborn, the top edge should come to just below the ears.
Natural posture
For proper hip development, it is important that the baby is carried in a natural position. The so-called M-position or frog position. The legs are spread slightly and pulled up high, with the knees above the bottom. The older the baby, the more the legs can be spread. The width of this baby carrier automatically adapts to your baby's 'spread width' and can be narrowed to fit also very small babies.
Not too much pressure on the back
The shoulder straps can also be attached to the waist belt (instead of the front panel), which avoids putting too much pressure on baby's back and ensures that baby gets the right support.
Cross the straps on your back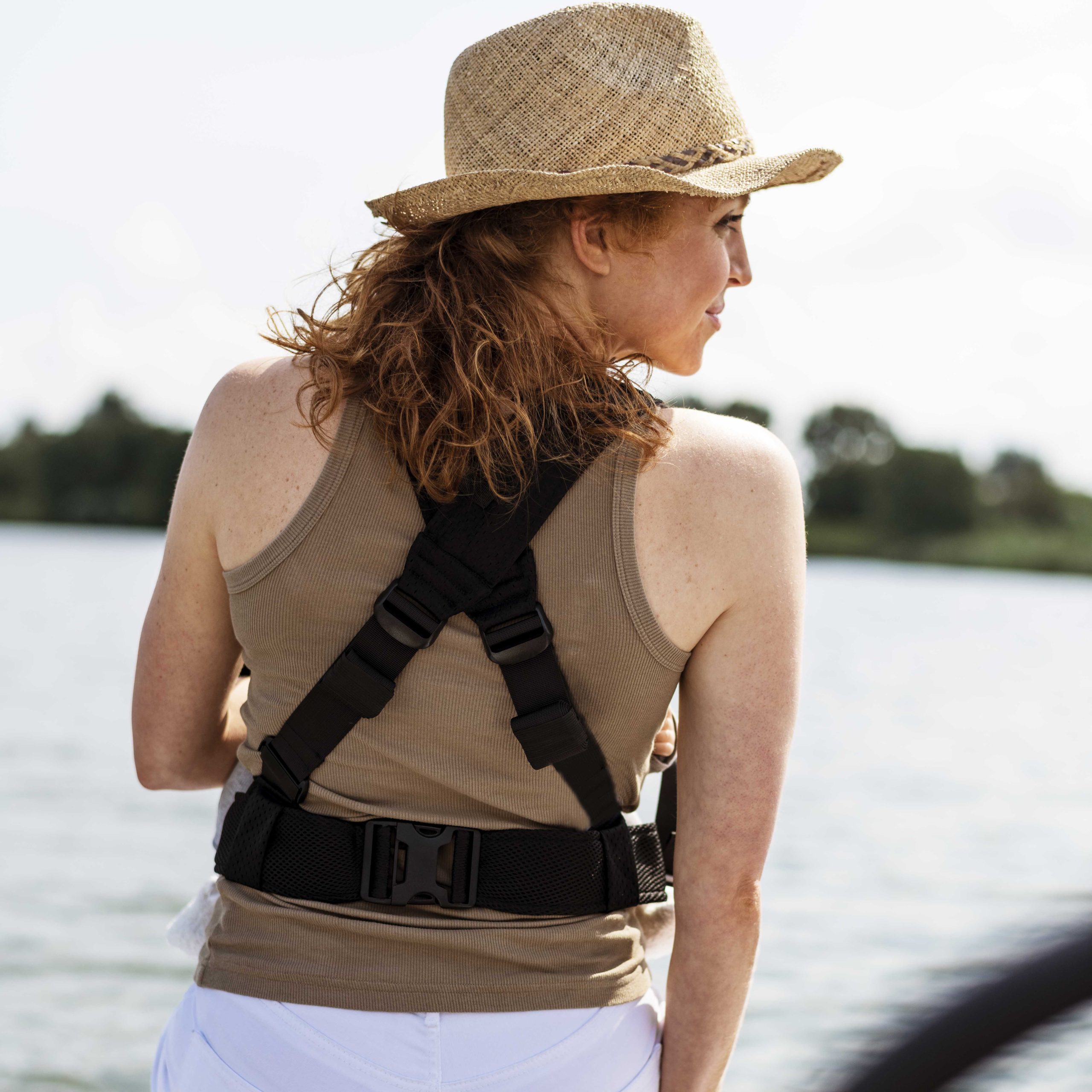 Straps attached to waistband
For a newborn baby, it is recommended to attach the shoulder straps to the waistband. This prevents too much pressure on the back. You can attach the shoulder straps to the waistband for as long as you like. For heavier babies (from 3 months), most people prefer to attach the straps to the front panel.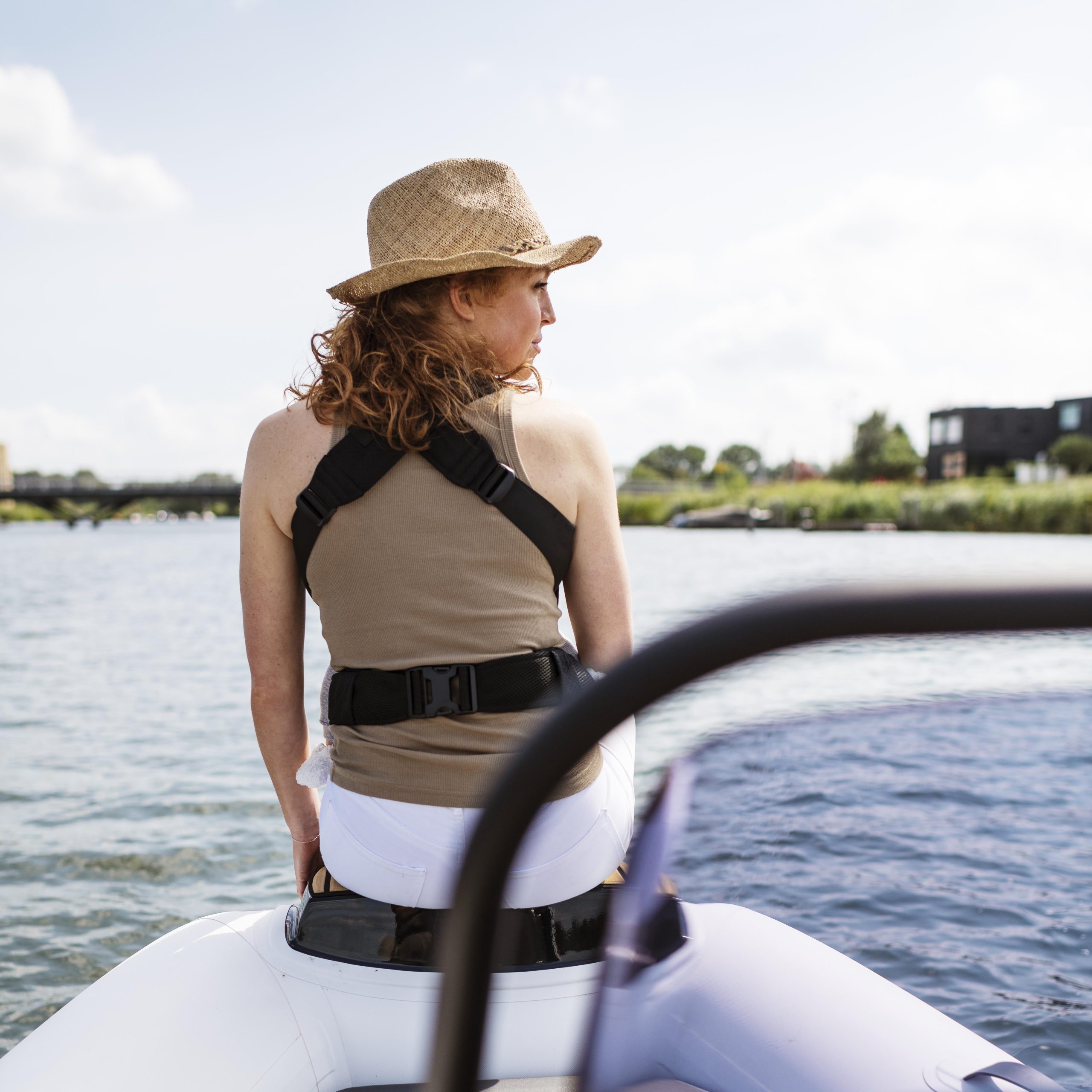 Straps attached to the front panel
From ±3 months you can attach the straps to the front panel. Most people find this more comfortable (especially with a slightly heavier baby) than when the straps are attached to the waistband.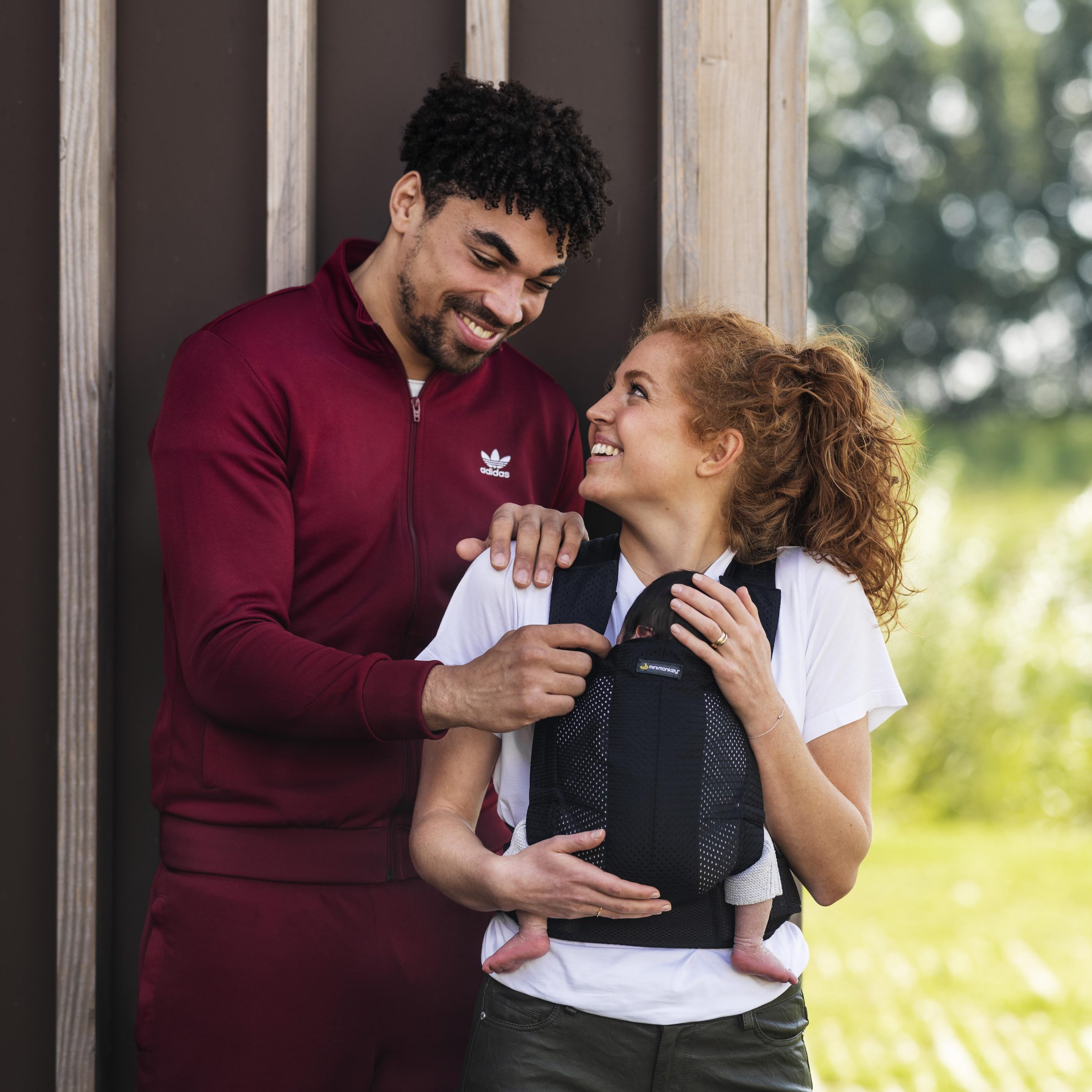 Safety
Safety is our top priority. Hence, we have had this baby carrier extensively tested by TÜV and it meets the strict EU safety standard. In addition, we have only used Duraflex buckles for this carrier. Duraflex stands for quality and for durability. The buckles are made of recycled material and can hold up to more than 50 kg 💪🏻
From ± 6 months +
Can also be carried on the back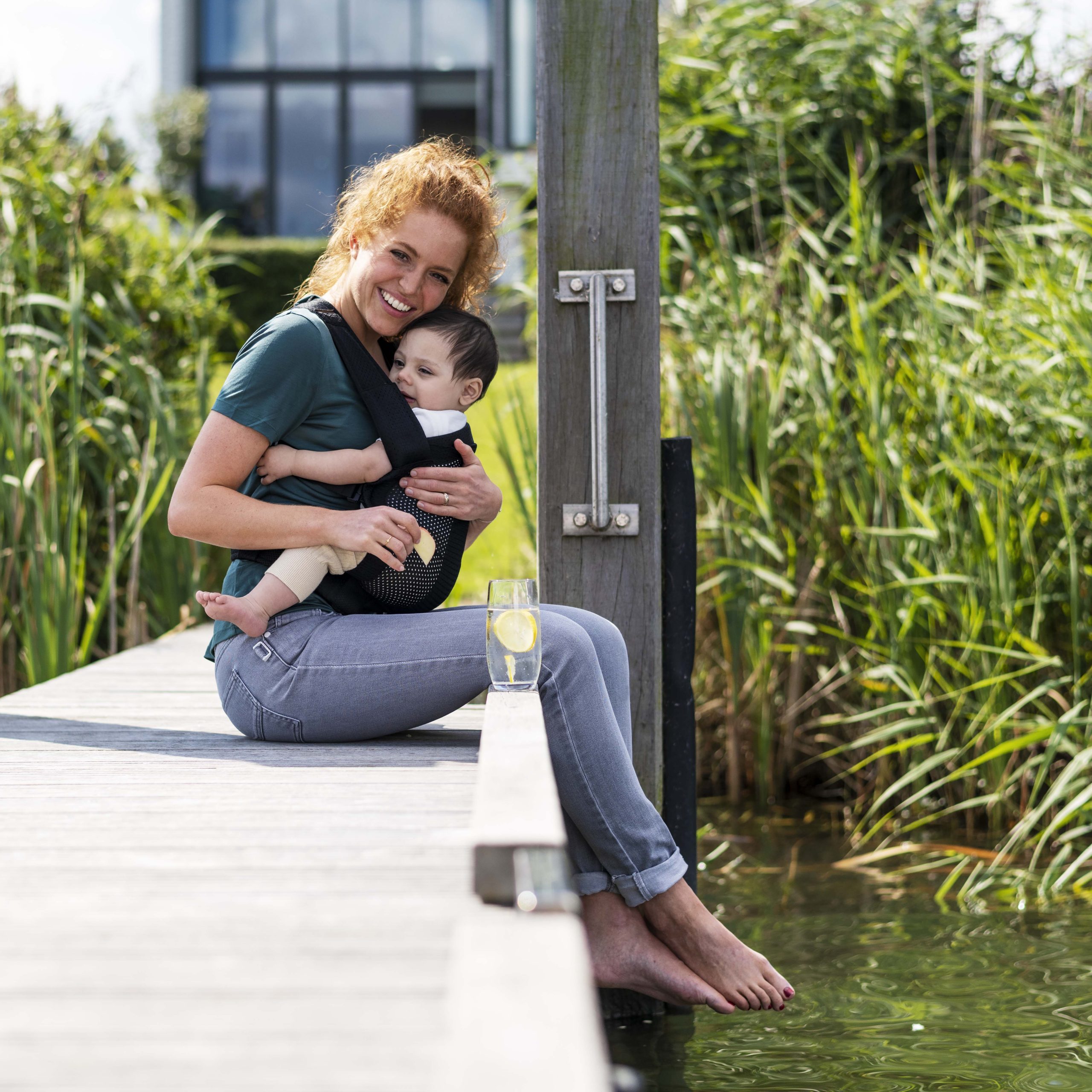 waterproof and airy material
Instruction video
This is how you use the baby carrier
Specifications
Weight:

0,37 kg

Measurements:

30 x 11 x 11 cm

Color:

Black

Intended for:

0 – 2 years (newborn - max 15kg / 33 lb)

Safe:

Conform EU safety standard

Wash:

40º (in laundry bag and at low rpm)

Material:

Mesh (soft, strong and light fabric with small, airy holes)

Recycled:

Yes, both buckles and mesh fabric

Waterproof:

Yes, ideal in the shower, in the pool, on the beach ...

Download: